KICKER® Plays Host to Hometown 2010 Summer Bash Car and Truck Show
STILLWATER, USA – KICKER® Performance Audio is throwing the biggest bash of the summer here with a two-day event centered around top-of-the-line cars competing for a chance to win bragging rights and tons of prizes. The KICKER Summer Bash Car and Truck Show gets underway at KICKER World Headquarters Aug. 14 and 15.
Fully equipped with delicious food, quenching beverages, tons of activities and entertainment, the car and truck show and KICKER Summer Bash is free for those who wish to walk around and check out the wide variety of cars and fun! 
In conjunction with engines revving, thundering subwoofers, food, drinks and mayhem, KICKER personnel will also be giving tours of the outstanding HQ Visitors Center, which is now open to educate the public about the KICKER brand, its products and Livin' Loud®! The ultimate KICKER experience starts immediately upon entrance through the front doors. With massive displays of KICKER gear, visitors will see, hear and feel the rumble that KICKER is all about. The Center's gift shop is loaded down with swag and gear for purchase as well, including KICKER t-shirts, earbuds, iKICK™ and zKICK™ iPod® and Zune® player docks, and great-sounding headphones.
Read more: KICKER Plays Host to Hometown 2010 Summer Bash Car and Truck Show
Installing a Head-Unit into a 2002 Subaru Forester
OK, i will take you through how to remove the stock unit and replace it with an aftermarket unit.
 This is what the stock unit should look like (if its got a second unit below the CD player then a single DIN pocket it required (available online or at your local car audio store).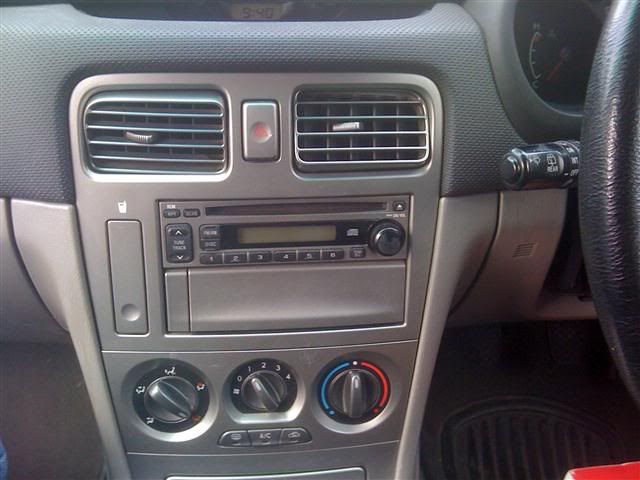 Read more: Installing a Head-Unit into a 2002 Subaru Forester
Installing a Head-Unit Into a VT-VX Commodore
In this article i will explain how to install an aftermarket head-unit into a VT-VX Commodore. As many will know these Commodores use a "double DIN" factory stereo, the double DIN means its double the size of a standard stereo head-unit (DIN). To overcome this i use a single DIN pocket, mounted below the new stereo.
Step 1:
Remove the standard stereo.
You'll notice two holes on either side of the stereo, using two lengths of coathanger bent into "U" shapes, insert into these holes about 25-30mm like this picture shows:
VIDEO Honda Main Relay Repair
Your old Honda wont start ? One of the most common faults in Honda's is the main relay. The solder joints get old and brake, broken joints dont carry electricity which means no juice into the ignition or the fuel pump, and then it wont run anymore ! So then your cool Civic, CRX or Integra is stuck on the side of the road or in the garage, and refuses to start. So check out this article on how to remove and repair your main relay to resolve problems with your Honda not starting.
VIDEO Paint Restoration
We've all seen it before. Your cars left outside and the paint gets a chalky residue and looses its factory shine. Or maybe you've been lucky (like us) and found an awesome project car that really needs some TLC on the paint. But where do you start ? Well, put down that "cut & polish" which will ruin your paint ! Grab a bottle of Meguire's Paint Restoration system, watch this video and find out just how easy it can be to clean that old paint and restore it to its original factory shine in minutes using old rags !